Andrew Forgrave
EA, MSEA, FCA
Kevin J. Donovan
CPA, EA, FSEA, FCA
Cash Balance Plans · Traditional Defined Benefit Plans
Included in
Actuarial Consulting Package

:

Design of Traditional Defined Benefit or Cash Balance Plan
Preparation of Plan Document
Signed Schedule SB
Signed Actuarial Certification of the AFTAP
Preparation of Actuarial Valuation Report and Participant Statements
Computations of Permissible Funding Range
Combined-plan Non-discrimination Testing*
PBGC Comprehensive Premium Filing*
PBGC Annual Funding Notice*

*if applicable

You maintain control of your client relationship.

You prepare Form 5500 and perform the trust accounting.
Complimentary plan design illustrations
Assistance with marketing efforts
No minimums or subscriptions
Simply pay us a discounted fee once we have gone to work for you and your client
Testimonials From Our TPA Partners
We have had the privilege of working with the staff at Pinnacle Plan Design since 2007. By collaborating with Pinnacle Plan Design and Kevin J. Donovan, we can offer our clients a full assortment of plan design alternatives to include defined benefit and cash balance plans without having an enrolled actuary on staff.
Kevin is an expert at explaining complicated plan design alternatives on levels that our staff, our clients and our financial advisors understand. He has taken the time to answer our clients' questions during conference calls and he recently spoke at a financial advisor symposium where our advisors were able to directly ask questions about offering cash balance plan design alternatives.
We look forward to working with Pinnacle Plan Design for years to come. We think of them as part of our team and would recommend their services without hesitation.
Cindy Burnett, COO
Retirement Plan Administrators, LLC | Atlanta, GA
We have used Pinnacle Plan Design's actuarial services for a number of years. We have always found their work to be innovative and well-suited to our clients' needs.
Phyllis P. Rimkus, President
Rimkus, Marciano & Associates, Inc.| Rochester, NY
MVP was first introduced to Pinnacle in 2005. MVP serves as the TPA on our 401(k) plans, while Pinnacle serves as the actuary for these same clients' defined benefit plans.
We were impressed from the start at their ability to provide accurate and timely actuarial services. They have an incredible ability to craft defined benefit plan designs to meet the objectives of our clients, offering consultation and guidance throughout the life of the plan. They develop unique and customized solutions, while still remaining focused on plan compliance.
They have always been a valued partner in the service to our clients.
Mark Vaughn, VP & CFO
MVP Plan Administrators | Cary, NC
We have engaged the services of Pinnacle Plan Design, LLC for several years. This has permitted us to expand our product offerings to include Cash Balance and Defined Benefit plans. The expertise and access to Lynn Young, Kevin J. Donovan, Andrew Forgrave and Sheri Alsguth has given us the confidence to provide these plans to our DC clients.
Their quick turnaround with year-end work, as well as prompt answers to tricky client situations, has proven to be a successful partnership. Pinnacle has allowed us to make defined benefit plans easy for our clients.
Barbara Leadem, Past Owner
Atlantic Pension Services, Inc. | Philadelphia, PA
Meet Pinnacle's Actuaries
Cash Balance & Traditional Defined Benefit
Thought Leaders
Authorship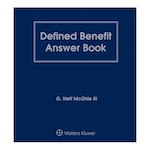 Pinnacle's actuaries have authored the 2016-Present Editions of the Defined Benefit Answer Book.
Published by:

National Speaking Engagements
Pinnacle's actuaries train Enrolled Actuaries and other pension professionals from around the country on technical cash balance plan issues at annual industry conferences hosted by the following organizations.